2019-2020
This year we have a new range of aims to work on. They are:
To recycle food waste into compost (and to use it in our polytunnel)

To work with our Pupil Council to create compost from leaf mould (again for our polytunnel)

To implement and encourage healthy eating in the school

To take part in Grandparents Gardening Week
Please keep an eye on our Homepage to see how these projects develop across the year
2018-2019
We have a new Eco-Council this year and are once again working towards our Green Flag. We have planned out a range of great eco-projects (including reducing the use of paper in the school and encouraging the reuse of waste) and the school community has been busy raising money to purchase a new polytunnel to teach about food production, biodiversity and to give all our children the chance to grow fruit and vegetables.
The Eco-Council helped Belle to plant our wildflower garden!
March
Waste Week!
We took part in Waste week and the Eco-Council took an assembly on Waste Electronic Electrical Equipment.
Our newly elected Eco -Council!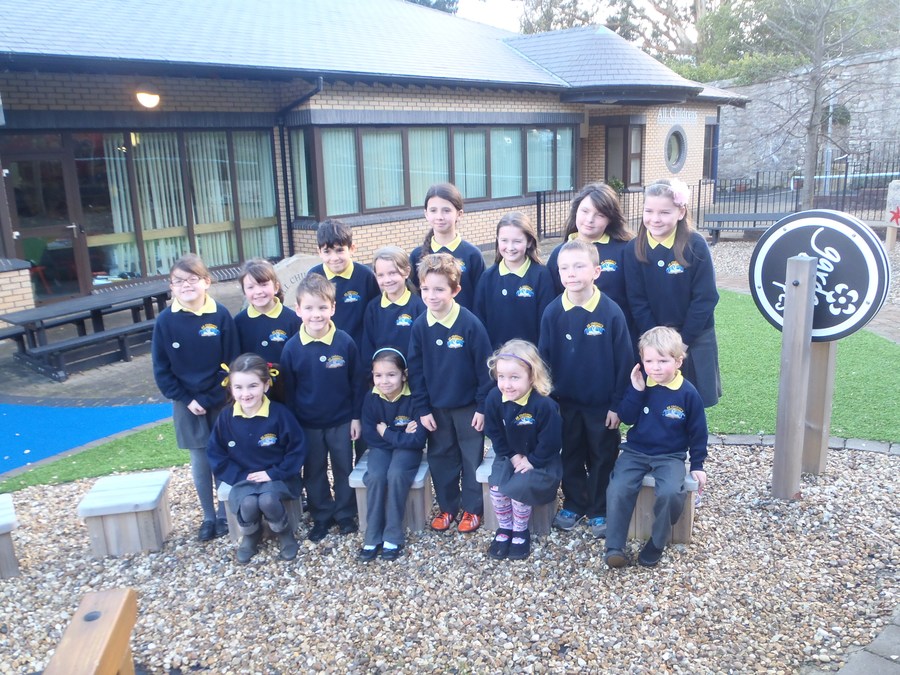 Some of the children who are participating in the Sustrans Active Travel initiative, making 18 journeys to school on foot, by scooter or by bike.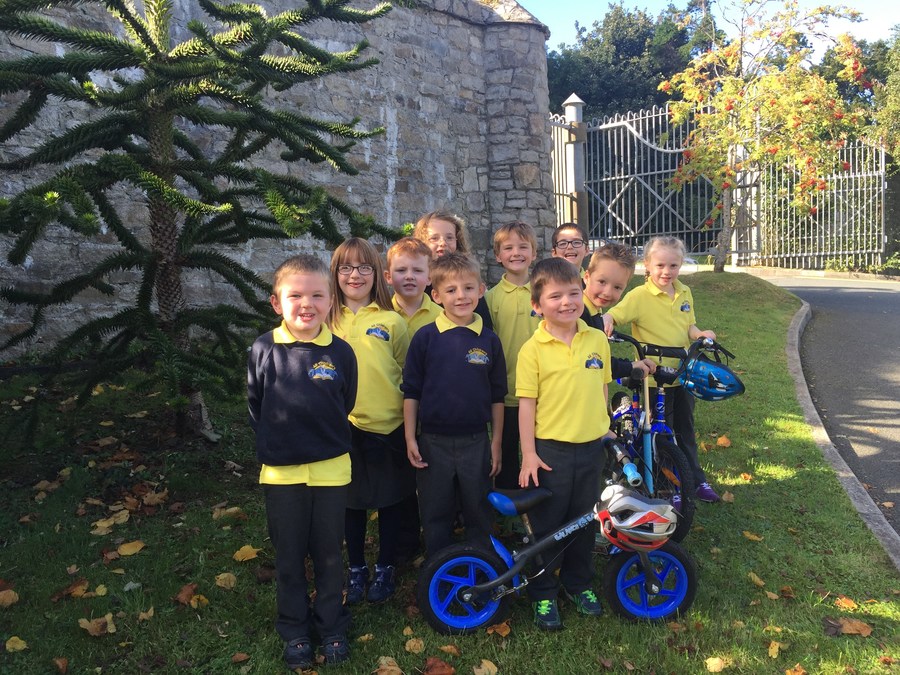 Well done to our Eco-Council!
We received our second Green Flag!
Eco-Schools NI judge Nigel McGarry presented the flag to the schools Eco-Council. The children have been working all year on the topics of Biodiversity, School Grounds and Energy.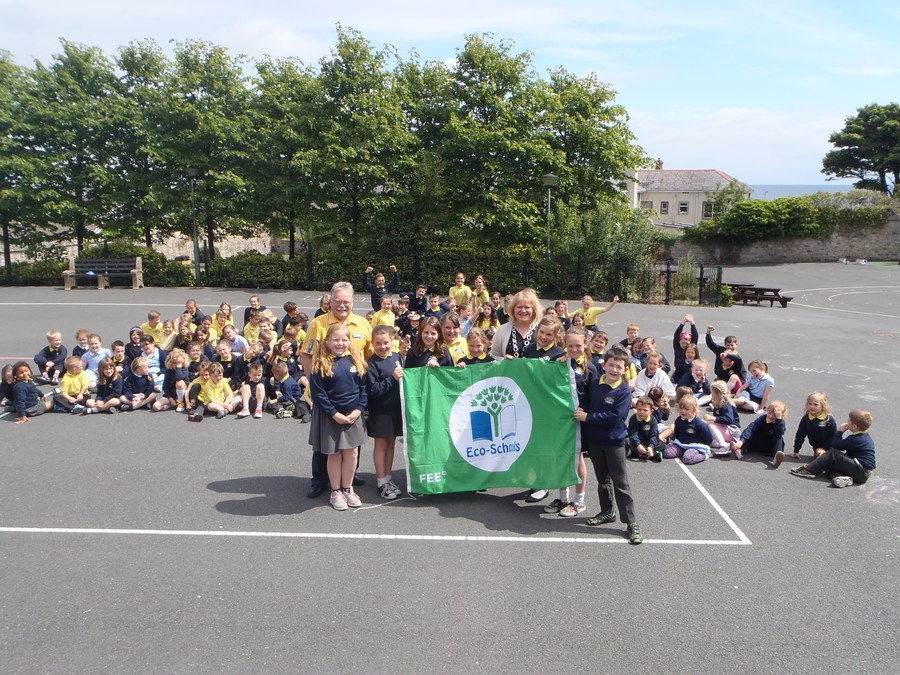 Pupils took part in a beach clean on Newcastle Beach. They collected a lot of rubbish! Afterwards they enjoyed a 'waste free' picnic.
IEF Scarecrow Competition Garden Show Ireland.
P7 pupils received a Highly Commended for their Eco Scarecrow and P1 Edible Garden received awards for 'Best Interpretation of the Theme' and Best Overall. Congratulations to all!
All Childrens IPS received a certificate for taking part in the Big Schools' Birdwatch
All pupils were encouraged to 'Create a Bug, from recycled materials. Everyone had great fun and there were some very interesting bugs!
Pupils planted their 'Victory Garden' as part of their WW2 topic
Pupils took part in a 'Recycle Fashion' show organised by the Eco-Council.
The Eco-Council chose two winners from each class.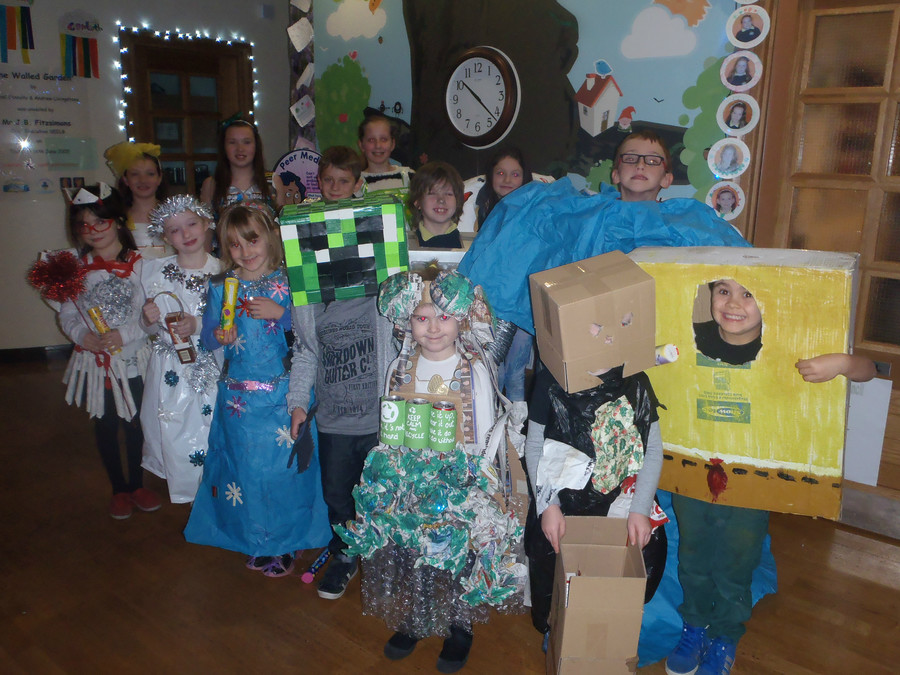 The Eco Council received a wormery from Down District Council representative Lucinda White.
The trees and plants have blossomed due to our lovely summer weather bearing apples, a pear and rhubarb!