IMPORTANT NEWS
COVID-19 UPDATE 24th March 2020
At present All Children's IPS is closed for all pupils other than those whose parents are Key Workers or vulnerable children and who have contacted us via email. This is reviewed on a regular basis and is dependent on relevant staff being available. This emergency provision is for a limited number of children only. No Key Worker or parent of a vulnerable child should assume a place as this must be confirmed by the school.
Please refer to 'Key Workers and Vulnerable Children' letter to parents/carers forwarded to all parents/carers through our school app on 20th March 2020 for more details.
Parentline NI

Parentline NI have been in contact to say that their Regional Parents Helpline is in full operation throughout this period. They can be contacted on freephone 0808 8020 400 to provide advice, support and guidance to parents and carers.

They are open:
Monday- Thursday 9am-9pm
Friday 9am-5pm
Saturday 9am-1pm

Or contact them via webchat www.ci-ni.org.uk or email parentline@ci-ni.org.uk

Thank you to everyone for your support and understanding at this very worrying time.

Kind regards,

Jon Beattie
Online Resources and Advice during Covid-19 emergency
Please use this list to access online learning resources and advice to help at home during the Covid-19 emergency.
Safeguarding and Child Protection
Please click here for information on accessing Safeguarding advice from school during the Covid-19 emergency
New Safer Schools App
The Department of Education Northern Ireland (DENI), have partnered with INEQE Safeguarding Group to provide a Safer Schools App to support all school staff, parents and carers to keep children in their care safer online. Please click here to access the link for the app.
General Resources
Please click here to view a huge range of online and offline activities to help support home learning when the school is closed. Many of these were included in the packs which we sent home on the 20th March.
Please click here for further good educational resources to support learning at home.
Activities to encourage Physical Activity
Acti-Sport Videos
Graham from Acti-Sport has produced videos for YouTube on helping keep children fit and healthy during the school closures. Click here for the link.
Sustrans
Sustrans, the charity which encourages cycling and walking, is producing weekly activities to help children stay active.
Click here for the Week 1 activity and here for the accompanying video.
Click here for the Week 2 activity and here for the accompanying video.
English and Maths Resources
1.Ur Brainy English and Maths worksheets (all year groups). Click here to access the free resources. Please note that with these resources their Reception = our P1s, their Year 1 = our P2s, their Year 2 = our P3s etc.
2.Guided Reading Activities for Foundation Stage. This is a great resource to encourage independent writing. Click here for the resource.
3.Guided Reading activities for P3-P7. Another great resource to encourage independent writing. Click here for the resource.
4.The Book Trust is the UK's largest reading charity reaching over 4 million children per year. Click here to visit their website and enjoy free online books and videos. From 6 April they will have a new Northern Ireland page featuring local authors and stories.
5. An Education Authority resource for parents to encourage numeracy at home. Click here for the resource.
6. A range of maths activities to develop core Money and problem-solving skills.
Click here for the P5 Money activities
Click here for the P6 Money activities
Click here for the P7 Money activities
Click here for the P2 and P3 problem-solving activities
Click here for the P4 and P5 problem-solving activities
Click here for the P6 and P7 problem-solving activities
Science and Nature Activities
Wow Science. Click here for great practical science activities that can be done at home.
Woodland Trust. Click here for great nature activities including building bird boxes, hedgehog homes and mini-nature reserves all at home.
Science Sparks. Click here for more investigations including a special Easter section.
Time Capsule Activity Pack
A lovely idea for an activity pack to help you record what it's been like for you during the Covid-19 emergency. Click here for the resource.
Pre-school Activities
Getting Ready to Learn has produced this excellent resource of ideas for parents of children up to four to use. Click here for the resource.
Looking after your Mental Health
Click here for Action for Children's recommendations of apps aimed at promoting better mental health.
Click here for a free book on how to explain Covid-19 to your child. Illustrated by Gruffalo illustrator Axel Scheffler the book helps explain the global pandemic to primary aged children and what they can do to help.
Other Activities
This pack contains a wide range of other activities to keep everyone occupied during the lockdown period. Click here for the resource.
NI Play Board. A link here to information on promoting play at home during Covid-19.
SEN Links During Covid-19
Click here for the Education Authority's Autism Advisory and Intervention Service website
Click here for the Education Authority's Special Educational Needs and Inclusion Service website giving information on helping children with Moderate Learning Difficulties, Downs Syndrome and Medical Needs.
Why Choose All Children's Integrated Primary School?
Click on the 'Integration' link above to find out about life at our primary school and visit us on Friday 6th December 2019 at 10-30am to find out about what we offer at All Children's IPS.
Results from our Parents Survey (June 2017)
97% of our parents felt that their child's culture/background is respected
95% of our parents felt that their child is taught to appreciate people who have different backgrounds to their own

New School Prospectus
Please follow links from 'Our School' above to see our new school prospectus (November 2019)
NEWS
6th March 2020
World Book Day
We had a lovely day yesterday for World Book Day. Classes came in, in their pyjamas/onesies to enjoy stories and hot chocolate. A big thank you to our Parents Council Committee who helped out by making numerous cups of hot chocolate!
Social Media Awareness Workshops
Thank you as well to the PSNI who have been in school today running social media awareness workshops with our P7s delivering very important messages on keeping safe online and being responsible users of social media.
Flight Workshops
Thank you as well to one of our dads, Dr Colhoun, who was also in P7 today giving a workshop on flight. Dr Colhoun, a professional ornithologist, who was explaining to the P7s about the science of flight has been a regular visitor to our school recently as he also ran a workshop with the P4s on polar bears as part of a topic they were studying. Thank you Dr Colhoun!
February 7th 2020
Internet Safety Week
Next week is Internet Safety Week and we will be running assemblies and workshops throughout the week. If you are interested in finding out more please go to https://www.saferinternet.org.uk/safer-internet-day/2020 . Here you will find great resources to help you explain the importance of internet safety to your child(ren).
January 10th 2020
Excellence in Integrated Education Award
We are delighted to announce that NICIE (Northern Ireland Council for Integrated Education) have awarded All Children's IPS an Excellence in Integrated Education Award. This award recognises if a school has a highly developed integrated ethos and can demonstrate the essential elements of being a good integrated school including promoting equality, promoting respect for those of different beliefs and none, high levels of parental involvement and promoting social responsibility. Since it began in 2010 there have only been a handful of schools recognised for this prestigious award.
The award comes at the end of a four-year project to ensure all the key areas were developed across the school. A particular thank you to Mrs McConville who has led this work. We will receive a detailed report on our work later in January and there will also be a special presentation ceremony later in the year. Congratulations as well to Shimna IC who were also given the award just before Christmas.
13th December 2019
Christmas Concerts
Very well done to our Reception - P2s and P3 - P4s for the four fabulous concerts they put on earlier this week. All the shows were a joy to watch and thank you to carers, parents and grandparents who came along to make these so memorable. I have no doubt many of the children slept very well on Tuesday and Wednesday evening as they gave all they had for the shows.
Cross Country
Congratulations to the Cross-Country team who qualified for the NI Primary Schools Final at Mallusk in February. In the two races at Castlereagh and Donard Park the boys team finished 1st overall and the girls' team 2nd. Training is in full flow for the finals!
Pupil Council
Well done to our Pupil Council who met yesterday to help review some of our major work from last year including a whole school animation project supported by the NERVE Centre in Belfast, our Shared Education work with St Mary's PS, a new Reading Buddies project for P4s & P6s and finally our collaborative work with Shimna Integrated College. Many thanks to the Council for helping us evaluate these projects.
29th November 2019
Open Morning and Early Evening Visits
Our Open Morning for parents wishing to apply for a place for their child in Reception or P1 (starting September 2020) will be held on Friday 6th December between 10-30am and 11-30am. This will involve a welcome from the choir, a tour of the school (helped by P7s, parents and Governors) and a chance to ask questions over tea/coffee.
15th November 2019
Congratulations to five of our P7s who yesterday came second in a public speaking competition on the theme of improving our local environment run by the Newcastle Lions. The P7s came up with a project to design and create an outdoor classroom in Donard Forest and were narrowly beaten by Knockevin Special School. Well done to Katelynn, Ruadh, Glen, Grace and Sadhbh!
25th October 2019
Autumn Fest
A very big well done to our Parents Council Committee for running a fabulous 'Autumn Fest' evening on Wednesday. With reptiles shows, Halloween discos, pumpkin displays and Halloween games hopefully everyone enjoyed themselves. Thank you to everyone who came along and supported this event. The PCC raised a fabulous £1063.23 for school resources! Thank you also to everyone who helped their child/ren carve pumpkins which have been on display throughout the week. Over 80 pumpkins were brought in and they looked fantastic. Ten of the pumpkins were selected as prize winners and at today's assembly Sean's name was picked out of a hat and won the main prize of a Family Pass to Mountpanther Estate (thank you Mountpather for supplying the tickets). We are all definitely in the Halloween spirit after Autumn Fest.
11th October 2019
Cross Country Success!
On Monday, twenty hardy young athletes made the trek to Henry Jones Playing Fields, Castlereagh to participate in the first round of the NI Primary Schools Cross Country Championships (County Down region). The weather was favourable – sunny and dry, but heavy weekend rain had left the course wet and muddy. An unprecedented 26 schools turned up to run; in fact an amazing 104 schools participated across the week at five different venues across the North.
First up was the mixed 'Fun run' – more like 'mud run' – and we were ably represented by Ben (5th), Jamie (9th), Ben (26th), Kieran (28th), Ruby (33rd and 3rd girl overall), Parisa (40th), Emily (45th) and Niamh (47th).
Next race up was the Girls' Race 1 (13 schools) and everyone had a fine run, led home by Erin (4th) and supported by Katelynn (17th), Helen (18th), Sadhbh (22nd), Piera (28th) and Kate (53rd). When the points were totalled up, the fabulous girls' team finished 3rd overall.
Finally, we had the Boys' Race 1 (again 13 schools). Yellow t-shirts were soon to the fore with Coehan blasting to the forefront to finish an amazing 2nd. Coehan was closely followed by Ben (8th), Fahlin making it a family double in 9th, Darragh (16th), James (24th) and Louis (43rd). When points were counted, the fantastic boys' team were crowned winners of the team race by a clear margin of 22 points.
Fun was had by all on a super morning out and we look forward to doing battle in December in the second round at Donard Park. Coach Rodgers and Assistant Coach Spence declared themselves suitably impressed by the day's performances.
27th September 2019
Annual Safeguarding Assembly for Reception to P7
During assembly yesterday we spoke to the children about how to keep themselves safe. We aimed to help the children understand that it is their right to be happy and safe and to encourage the understanding that any problem or worry that they may have is legitimate, and to share their worries – big or small – with their trusted adult; at home, at school, or with ChildLine. We explained to the children who the 'Listening Teachers' are. These are the members of staff who have special responsibility for Safeguarding and Child Protection. This year the Designated Teacher for Child Protection (DT) is Mr Beattie and the two Deputy Designated Teachers for Child Protection (DDTs) are Mr Houlahan and Mrs Curran.
During the assembly we aimed to give children:
An understanding of different forms of abuse, including bullying
Knowledge of how to protect themselves from all forms of abuse
An awareness of how to get help and sources of help, including ChildLine.
Please visit the NSPCC's website if you would like more information www.nspcc.org.uk on general advice on safeguarding matters.
Childline's number is 08001111
13th September 2019
Homestart at All Children's IPS
Our local Homestart group, which supports families with young children, are delighted to announce that it will be running a family group for parents and children in All Children's commencing on Tuesday 17th Sept from 9.30am-11.30am in the assembly hall (access can be gained from the side door of hall). Homestart welcomes all parents and children from birth-preschool to join in a morning's programme packed with fun activities and opportunities to develop social, emotion and fine and gross motor skills. They will be off on Tuesday 24th September due to training but will be back on 1st October and will run in line with our school timetable. The Homestart team looks forward to meeting you all.
6th September 2019
We have finished our first full week and it has been great having all the children back. A very warm welcome to our new Reception and P1 children and their families. Yesterday's assembly focussed on 'What makes a great school?' and the whole school helped make a 'recipe' which included all the people, the right attitudes and all the rules and rewards to make our school thrive.
Friday also saw the arrival of a beautiful new storage container to the staff carpark which will be used to store outdoor play equipment.
Back to School!
We hope everyone has had a wonderful summer break. Details for the start of the new school year are as follows:
SCHOOL RE-OPENS FOR CHILDREN ON THURSDAY 29TH AUGUST
Thursday 29th August (9-00am to 12 noon)
No dinners or school bus
Friday 30th August (9-00am to 12 noon)
No dinners or school bus
Monday 2nd September (normal school hours)
School dinners and bus available
24th May 2019
Calling all Grandparents/Parents
We would like to establish a Gardening Group to help us develop ourgrounds and make use of our new polytunnel. The aim would be to meet once a month to work with your child/grandchild and other children. We know we have so much to learn from you! Please contact Mrs McConville or Mr Beattie for further details if you think you might be interested in helping/participating.
3rd May 2019
To Infinity and Beyond!
Thank you to the P3s who put on a wonderful assembly yesterday morning attended by the whole school and many P3 parents & carers. With the theme of Space & Weather the audience were treated to the story of Pluto, songs about our amazing solar system, plenty of space themed jokes and poems about Space. Great costumes, props and displays all made for a very entertaining assembly. Thanks to all the staff for all the hard work they put into this. The Mourne Observer took some photos which should be in the paper shortly.
5th April 2019
Our wonderful Parents' Council will be holding a fundraising 'Pizza & Quiz Night' on Monday 15th April between 6-00pm and 8-00pm. Family tickets are £10-00 or individual tickets are £2-50 (price includes a slice of pizza!)
Our P7s have been enjoying some 'Stretch & Challenge' workshops with Yr.8 students from Shimna IC. Last week the P7s arrived into school to find the corridor and their classroom turned into a crime scene (see below) and to solve the mystery they had to use their mental maths skills. This was a great workshop and a great way of bringing maths to life.
Our Pupil Council met today and it was super to listen to their ideas for further developing our school. One of the Council suggested that we run a 'Careers Day' to help them develop a greater understanding of the world of work. We are now planning to do just that and will soon be looking for parent volunteers to come in and talk to the children all about their jobs. We may even ask the pupils to dress up in the outfit for the type of job they would like to have. Well done to all the Pupil Council for great ideas today!
22nd March 2019
This week our P4s took a whole school assembly watched by their parents & carers on the theme of Waste. We are currently working towards our Eco-schools Green Flag and the P4s did a great job explaining to everyone about the importance of 'Reusing, Reducing and Recycling.' Together with our two other environmental themes of promoting understanding of local biodiversity and promoting outdoor learning we are busy helping our pupils develop an appreciation of the wonderful location that our school is located in and how best to care for it.
8th March 2019
We have had a great week celebrating both World Book Day and Integrated Education Month. On Thursday the pupils dressed up as their favourite book characters, swapped books and enjoyed a number of DEAR (Drop Everything and Read) sessions. Also on Thursday our P7s put on a wonderful assembly for the whole school and their parents exploring and celebrating diversity around Northern Ireland including our languages, sports, music and dancing. The P7s even designed some new flags and asked everyone to vote on their favourite.
Thanks as well to our School Council who met to review our Positive Behaviour Policy. This policy is one of a number of our pastoral policies which is reviewed by our pupils, parents, staff and governors every three years and it is always great to listen to our pupils thoughts on such an important policy.
15th February 2019
Congratulations to all our P5s who put on a super assembly for the whole school and their parents & carers on the 14th February. On that date the theme could only have been St Valentine's Day and everyone laughed and applauded as the class sang songs (2 Beatle's classics), read out poems and limericks and recited the Sam McBratney book, 'The Adventures of Little Nutbrown Hare' all connected to St. Valentine's Day. Well done everyone!
School is closed for half-term break during week commencing Monday 18th February and re-opens on Monday 25th February.
1st February 2019
Visiting Birds at All Children's
Over the last few weeks we have been very lucky indeed to have been able to welcome one of our dads, Dr Colhoun, who works as a professional ornithologist. Having previously worked for the RSPB, Dr Colhoun has much experience researching different birds and for all the children they have been treated by visits on two occasions. On his first visit Dr Colhoun brought in a beautiful buzzard which as you can imagine made a big impression. On his second visit Dr Colhoun brought in a blackbird, a great tit, a blue tit, a robin and a chaffinch for the P7s to see which connected wonderfully with their current topic on flight. It was brilliant to see the children's reactions to seeing the birds so closely and I have no doubt they will remember the visits for some time to come.

18th January 2019
This week saw the launch of an exciting new event called 'Building Tomorrow: Celebrating 25 Years of Shimna Integrated College' where Shimna College (the integrated college next door to us) will be assembling a choir of students, parents/guardians and staff from Shimna and All Children's IPS.
To mark Shimna's 25th year, Shimna music teacher Ria Maguire has written an original song to celebrate their journey through integrated education. The song, named 'Building Tomorrow', will be professionally recorded and released as a single, and the event on Monday 8th April will be the official launch of our record.
To take part in the Shimna Community Choir, absolutely NO EXPERIENCE is needed and full details will be sent out to all our parents next week.
11th January 2019
Welcome back to everyone after the Christmas holidays.
Action MS Celebration Event
We mentioned before Christmas the fantastic amount that was raised by everyone for Action MS. We are delighted to report that All Children's won a beautiful shield as we raised the highest amount for any primary/post-primary school in the entire southern region of Northern Ireland. Congratulations everyone!
Uberheroes Workshop
The mental health charity Hope4Life NI were back in P7 this week using specially produced comics to help the children explore the importance of resilience and forging good friendships to help develop good self-esteem. If you would like to find out more please visit their website www.uberheroes.co.uk.
21st December 2018
Merry Christmas to everyone! School re-opens for the new term on Monday 7th January.
14th December 2018
Christmas Shows
We have a great week at school with four Christmas shows and our annual trip to our local cinema (Newcastle Community Cinema). Congratulations to all the children who took part in the brilliant shows on Tuesday and Wednesday. Wednesday evening culminated in our Big Christmas Raffle with over 20 prize-winners going home with either vouchers, gifts, a new bike or even a voucher for 500 litres on heating oil! A huge thanks to everyone who contributed gifts for the raffle and especially to our Parents Council who have done such a great job fundraising throughout this term.
4th December 2018
Christmas Fayre
Many thanks to our PCC and to everyone who came along to support our Christmas Fayre on Saturday. Despite the heavy rain outside this was a lovely event with children, parents/carers and grandparents alike all having a great time and raising funds for our school. Funds raised will go towards a further Interactive Whiteboard.
23rd November 2018
Action MS Celebration Assembly
Congratulations to everyone who raised money for Action MS. Yesterday Noreen Campbell from Action MS came into school to say a huge thank you to all the boys and girls for their fundraising efforts. A special well done was given to the six children who all raised more than £100 each for the charity. These six have been invited to a special celebration lunch in Belfast after Christmas as a way of saying thanks. The school raised an amazing £3481.66!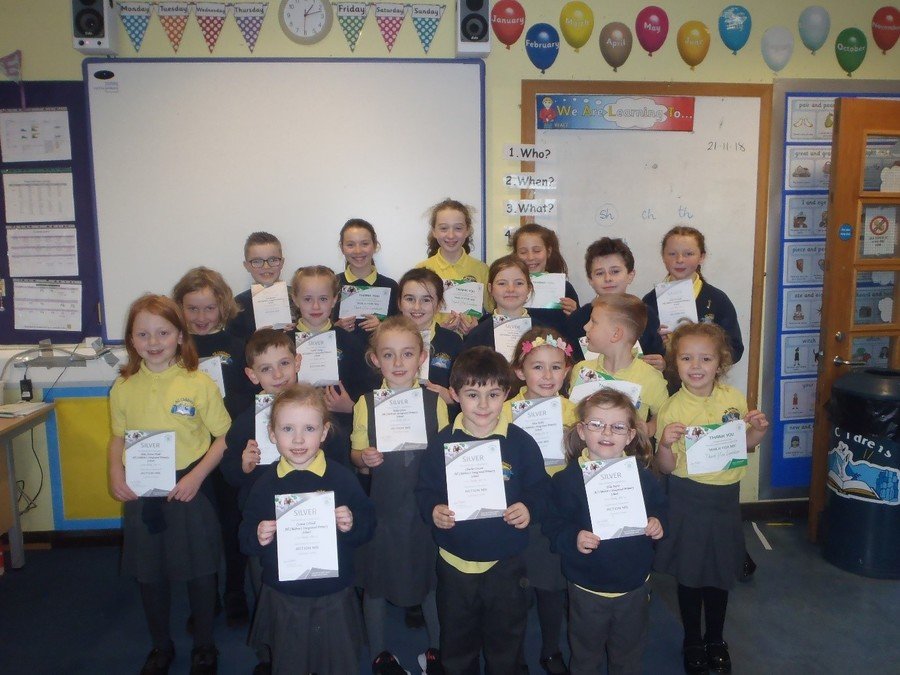 Some of our best fundraisers at the special assembly held on Thursday 22nd November.
16th November 2018
Victorians Day in P7 and Anti-Bullying Week
On Friday the P7s were transported back in time to the Victorian period. This provided the children with the opportunity to put their learning into a real time situation. They experienced activities such as Victorian maths and handwriting, drill and traditional playground games. Our P7s thoroughly enjoyed dressing up for the day and this certainly added to the event. A victorious Victorian day!
Last week was also Anti-bullying Week across Northern Ireland and we held two special assemblies explaining to the children how to recognise bullying and all the different ways they can get help. Each class also ran an anti-bullying workshop and we have a whole school anti-bullying display board to help deliver important anti-bullying messages.
13th November 2018
Shared Education in Action
For the last few years we have been running a Shared Education project with our partner school St. Mary's (also in Newcastle). This week the P3s came together to continue their work exploring our local environment with the support of the Forestry Service. After a workshop at Castlewellan Forest the classes came together again in the afternoon to explore what they had found out. We are so fortunate to have fabulous forests, beaches and mountains to help our pupils develop key science and geography skills as well as a deeper appreciation of the world around them.
26th October 2018
Write Your Wishes on Stone Event
Last week the whole school took part in a ' Write Your Wishes on Stone Event.' This marked the end of our Global Learning Programme 'World's Largest Lesson' and aimed to raise awareness of the UN Sustainable Development Goals. Each child represented their wish for a fairer future for all, on a stone which they then painted. Finally all the stones were brought together to make a large piece of 'Nature Art' which is currently on display at the front of the school.
19th October 2018
At All Children's IPS we love to reward good effort and good work and each fortnight we gather one piece of work from each class for our WAGOLL (What A Good One Looks Like) display board. The photograph shows some of our WAGOLL award winners last week together with a beautiful piece of art one of our P5s made. We are also busy getting ready for Halloween and the P7s have enjoyed preparing what they will be carrying during this year's HallowTides parade in Newcastle.
12th October 2018
Thursday was a busy day at All Children's with the whole school taking part in a sponsored walk for Action MS at Castlewellan Forest Park (see below), followed by staff from the Nerve Creative Arts Centre in Belfast (who are working with us throughout the year) running a Coding workshop for our P2s as part of EU Coding Week and it finished with welcoming 11 teachers from Belgium & Germany who are in Northern Ireland finding out about integrated education.
4th October 2018
Twelve of our P5s have had a lovely morning at Slieve Dhu Nursing Home reciting their own poems and listening to poems with the residents. Thank you to everyone who made us so welcome.
Thank you as well to everyone who came along last night to our Linguistic Phonics Workshop with Paula Quinn to find out all about how we teach spellings and reading in the school.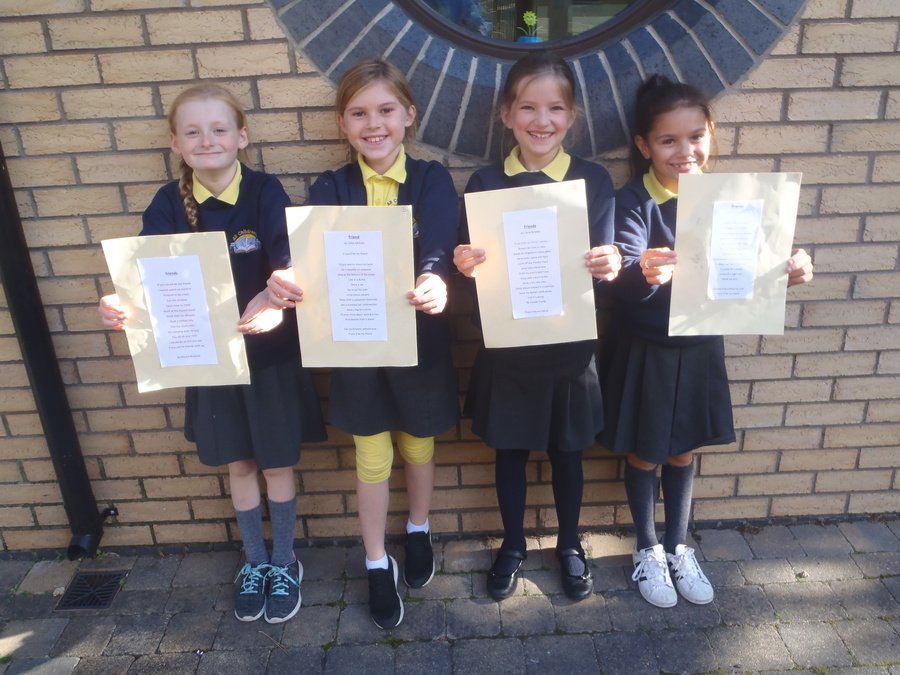 Welcome to All Children's IPS
May I take this opportunity to welcome you to All Children's Integrated Primary School new website.
All Children's opened in September 1986 and has prospered and grown ever since. We are an all ability integrated primary school for 4 - 11 years olds and there are currently over 210 children enrolled.
The caring and dedicated staff at All Children's IPS strive to ensure that the time your child spends at primary school is memorable, happy and rewarding.
We deliver a broad and balanced curriculum for all children and aim to give every pupil frequent opportunities to express success in learning and to achieve as high a standard as possible.
As an integrated school respect and tolerance are at the core of all we do. We place great emphasis on being as inclusive as possible, providing a welcoming learning environment where all traditions, cultures and abilities are respected and nurtured together.
We value every child and have the highest expectations in all areas of their development:- academic, social, spiritual, physical and emotional.
Please feel free to contact the school if you would like further information.
Jon Beattie
Principal
A copy of the Board of Governors 2016/2017 Annual Report is available from the office.
June 2018
Our Key Stage Two pupils put on three fantastic performances of Super Stan. Well done to everyone who took part and special thanks to Mrs McConnell, Ms Skeffington, Mr Rodgers and Mr Houlahan.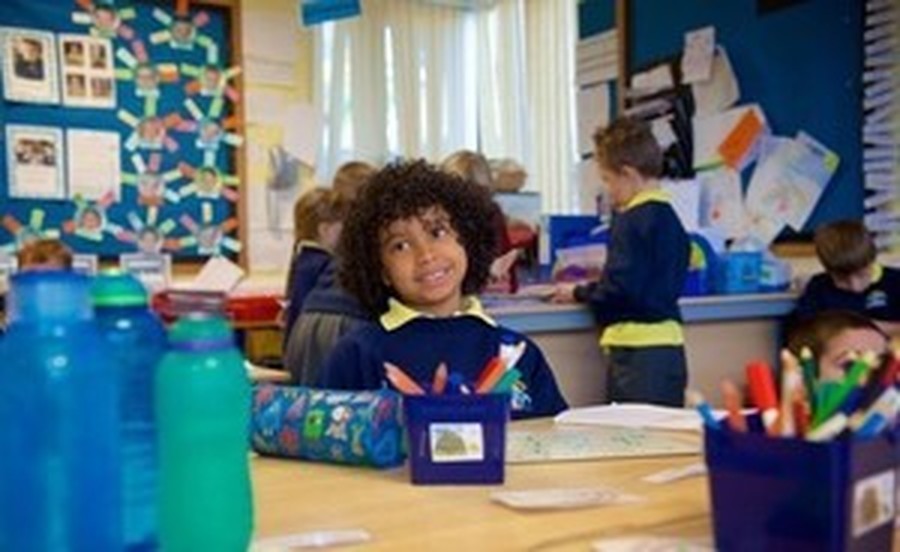 Latest School Calendar Events
There are currently no events.
Calendars page(s): School Calendar >>
Noreen from Action MS explained to the pupils, in a very child friendly manner, some of the effects of Multiple Sclerosis
Tanya from Daisy Lodge was presented with a cheque for £673 which was kindly donated by parents over the Christmas period.
Pupils of the Week
March 2020
Mr Rodgers awarded the whole class 'Pupil of the week' for their hard work and dedication to their amazing class assembly on empathy. Well done, some valuable lessons to take back to their classes.